Sell Your Property on a Schedule
It's the secret many people are unaware of because they may only be familiar with traditional methods of selling real estate. But the rules guiding real estate assets are changing — and selling timeline expectations are evolving right along with it. Sellers are beginning to learn – and many traditional real estate agents advise -- to auction your property if you are restricted to a timeline.
Truly, there are multiple ways to sell property, because not all property or circumstances are the same. If you don't care about the timeline, you might put a sign out front or list it on an online software program. If you care about timeline and need to sell your property on a schedule, there are a few options in real estate.
The standard "list-and-wait" approach to selling commercial and residential properties doesn't align with the schedules and priorities for many in today's market. What's more, it's easy for a home, building or piece of land to get stuck in the marketing mold — or worse, lose visibility with buyers who have the most pressing interest in real estate like yours.
But what alternative is there — and won't you sacrifice the price you could get for your real estate when you sell your property quickly?
At Tranzon, we don't think so. We've built a business on providing real estate marketing solutions tailored to the times — and timelines — of real people today. Using market data, customized strategies, and digitally immersed sales experts, our team of real estate auction professionals can leverage sellers' real estate assets to potential buyers in ways that are more targeted, more efficient, and more profitable than ever.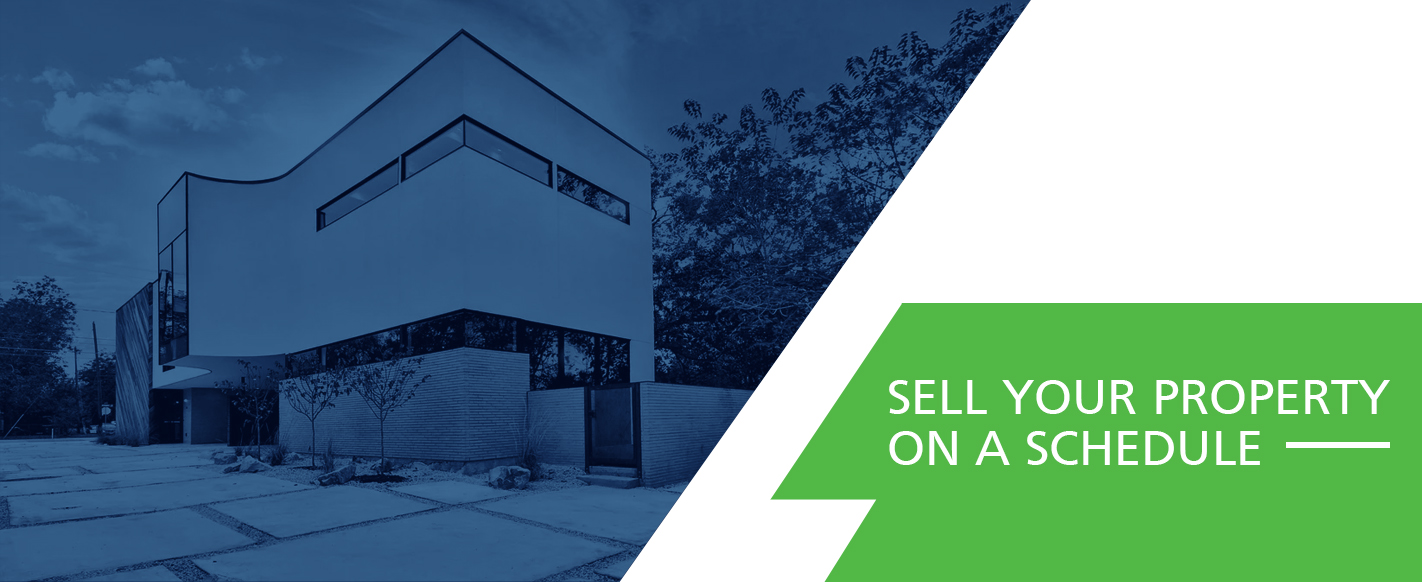 Selling Your Property on a Schedule
Sellers don't have to negotiate between pace and profit. Selling your property on a schedule that suits your goals is attainable with the right methodology and the right sales experts: professionals who conduct scheduled asset transfers and accelerated marketing of real estate as their primary mode of business.
Auctions can be structured in many ways, but in terms of how buyers are invited to bid, scheduled property sales mainly come in two forms: onsite auctions and online auctions. These two can even be combined when appropriate.
1. Onsite scheduled ("live") auctions: Onsite auctions are real-time sales of properties through competitive verbal bidding where the sale happens face to face with the auctioneer (either on the actual, physical property or perhaps in a ballroom-type setting). They've been a tradition for hundreds of years, offering both buyers and sellers a unique and mutually advantageous way to acquire and sell properties quickly and at fair market values, but without the haggling, drawn-out negotiations or extraneous middleman costs.
2. Online auctions: Online auctions take the same real-time bidding principles of onsite ones, but lend them a digital stage. They also eliminate geographical restrictions, so they have widened buyer and seller pools alike, substantially increasing the likelihood the ideal buyer can find and bid on their perfect property.
Both models have advantages, as does the combination of the live auction with real-time online bidding -- but in each, sellers have the advantage of attracting the right kind of potential buyers from the onset: pre-qualified prospects.
These prospects are ideal because they're intentional. Pre-qualified individuals have researched and sought out property auctions ahead of time, solidifying their financing and completing all the necessary measures it takes to participate in these real estate events.
But buyers come out on top, too. With online and onsite real estate auctions, both buyers and sellers stand to benefit.
Shortened timelines: An auction's accelerated, yet set, schedule lends peace of mind and structure to all parties. They forgo the notoriously long and multi-level processes involved with traditional listings, from showings and back-and-forth price negotiations to contract processes rife with contingencies, paperwork, fees, and financing.
Siloed competition: Auctions draw committed potential buyers and sellers. There's no room for tepid responses or dragging feet — only serious parties looking for exact real-estate solutions.
A greater sense of control: Sellers have a set timeline for when the property will sell, a minimum value for bids and a personalized marketing campaign directed toward prime audiences. Buyers bid in comfortable increments, know the bidding and closing dates beforehand, and compete on the same terms, with the same information, as all others.
When people hear the words real estate auction, they often conjure scenes of rapid-fire sales for distressed homes or buildings. Given certain real estate auction industry depictions, this is understandable — but it's not the way companies like Tranzon do business.
We follow a proprietary Market-Making SystemTM because it has one proven purpose: to provide a personalized marketing plan leading to accelerated, successful real estate sales, whether online or onsite. We don't use vapid marketing speak, either. You get a single expert point of contact, custom campaigns, local market experts and evaluators, all to ensure a timeline and model that gets your property off your shoulders, how and when you need it.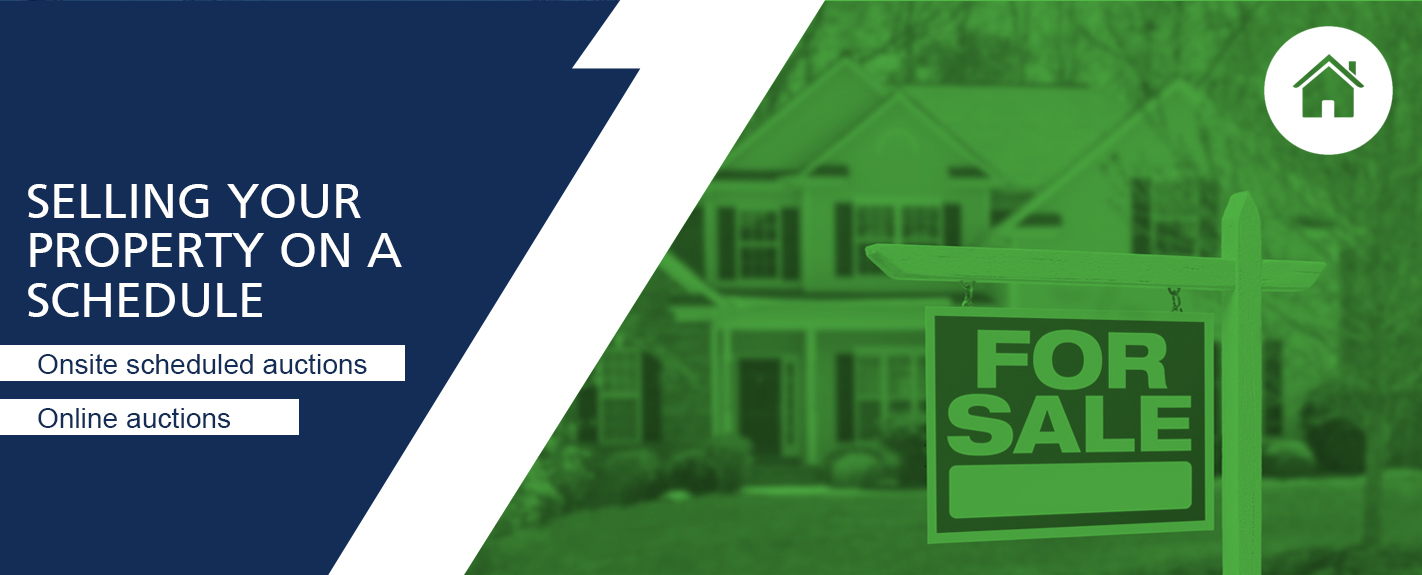 Why Should You Sell on a Schedule?
Selling real estate on a set timeline carries benefits for both buyers and sellers looking to transact assets quickly, yet securely. They structure a selling template that affords the following:
1. Select the Best Selling Model for Your Real Estate
Auctions create an unparalleled sense of urgency around marketed properties. Since prospective parties must have their finances and resources lined up ahead of the event, they also attract the ideal kind of buyers — those serious about asset acquisitions, who've done their due diligence and are ready to make a purchase.
Traditional property listings can't replicate this model. It directly courts that sense of urgency so pivotal to a successful accelerated sale — which is exactly what you're looking for.
2. Eliminates Ambiguity
The average home listed traditionally will stay on the market for 68 days. In some parts of the country, though, that selling timeline is nearly double.
Ambiguous closing deadlines can cause a domino effect of other uncertainties. Auctions tend to court fairer market values for commercial and residential assets, as well as land or developments, leaving price haggling and penny-pinching off the table. Sellers also don't have to cross their fingers and wish for potential buyers or wonder if they should wait for a better offer, since bids all come in at once. Auction marketing campaigns additionally target proprietary databases of buyers looking for your exact real estate type.
In fact, the whole process is transparent. Every buyer gets a robust informational package about the property they're bidding on and the terms of the sale, so they're fully informed and ready to bid. And there's no ambiguity or slowdowns in the closing process between the buyer and seller, because all sales are "as-is, where-is," without contingencies.
3. Reduces Carrying Costs
Longer sales routes with traditional listings directly court higher property carrying costs. that means less cash flow and financial flexibility on the seller's side as they funnel money not into increasing the value of their property, but into its taxes and maintenance. what's more, insurance and utility payments don't stop just because a house is on the market. sellers bear the responsibility for these costs without the assurance of an auction's sale date.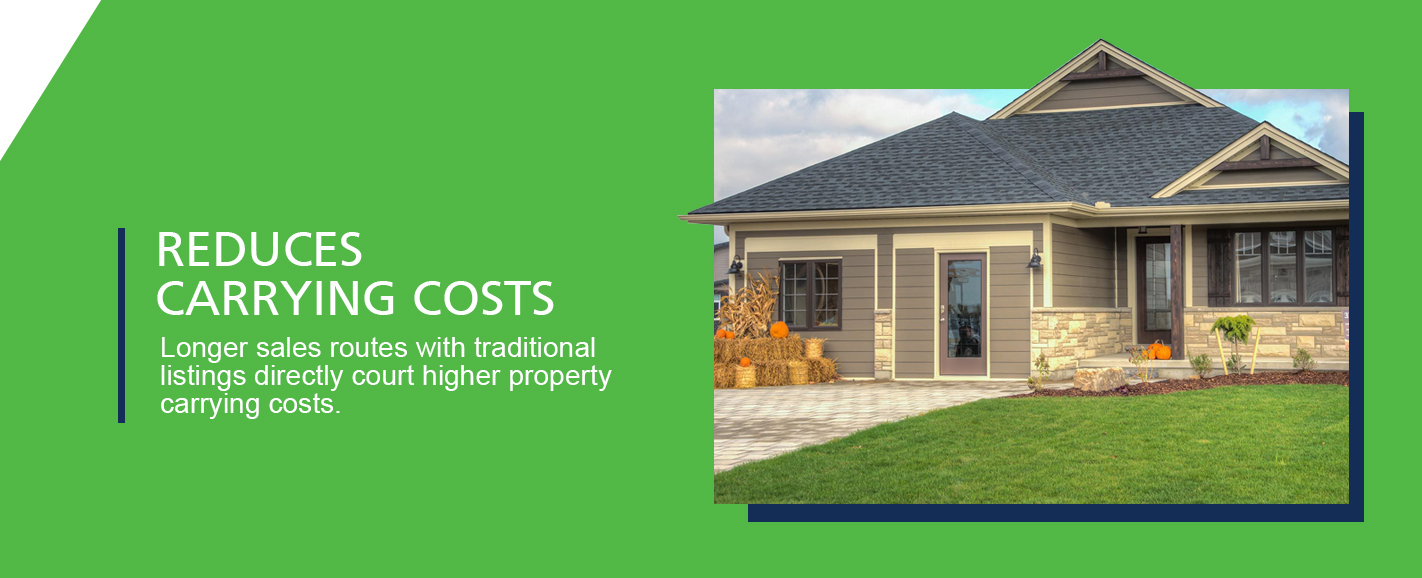 4. Prioritizes Your Agency
You pick the terms and conditions of the sale. You set the minimum starting bid. You control money deposits, "as-is" sale conditions and much more, all of which places you in the driver's seat when it comes to the majority of asset negotiations, if there are any at all. A property selling timeline is the foundation to regaining control of the real estate selling process.
5. Introduces Customized Campaigns and Marketing Programs
Scheduled auctions drive up interest and engagement through targeted, individualized advertising campaigns, which is something traditional listers won't get. Auction events and their sponsors use a range of tactics, from Internet listings and services, e-campaigns, online ads and direct mailing, to inviting their personal network of buyers and investors.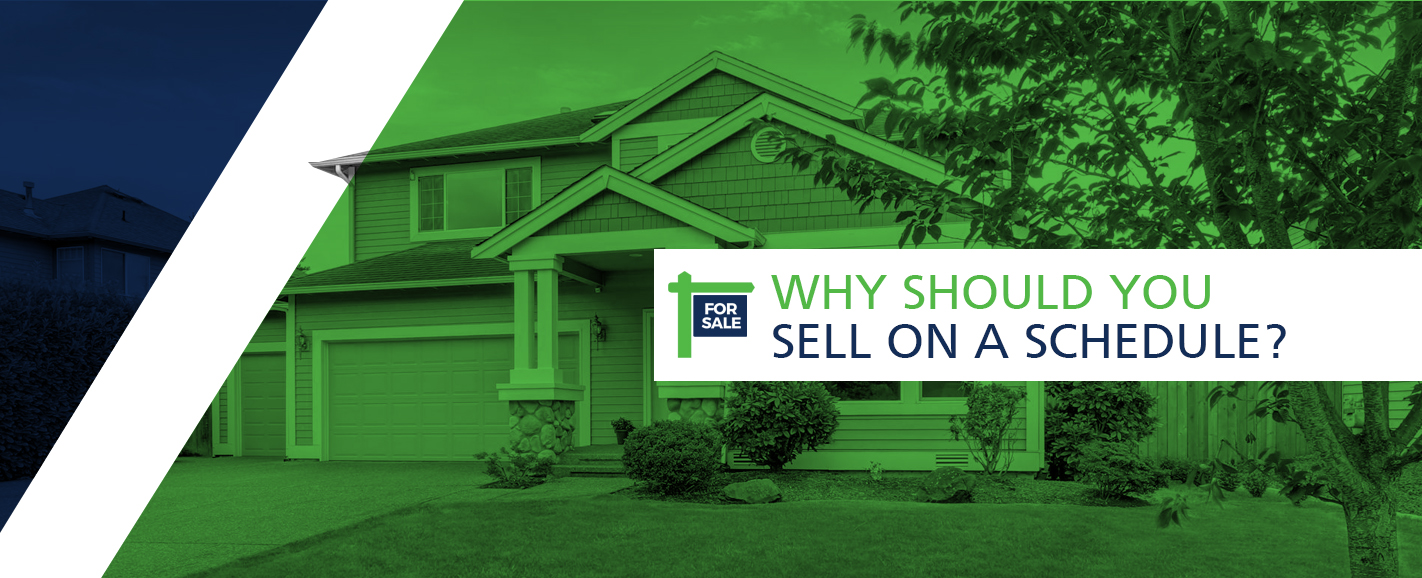 Sell Your Property in the Most Effective Way Possible
The desire to sell your real estate quickly and efficiently is only the first step.
To see your property's sale brought to fruition — with profitable assessments, relevant advertising, sales strategies and a cost-effective closing timeline — you need to partner with a real estate marketing firm specializing in the auction industry.
These professionals not only have the experience and industry savvy to guide you through the auction sales process, but they also pull from an extensive network of similar industry experts, interested broker parties and known buyers in your property's target market, which they'll help you identify. This network is invaluable, as are the core marketing campaigns and services around it.
To help ensure you know how to sell your real estate on a schedule and match with the right buyers, consider the following steps:
1. Research Personalized Real Estate Marketing
Not all real estate companies are equal.
Some, like Tranzon, came from lifelong real estate auctioneers and agents who saw the need to connect prospective buyers and sellers more effectively. What's more, they recognized there was a missing variable in so many property listings that can often make or break its success: proactive marketing.
Together, they created a company that offered real estate marketing solutions serving the best interest of the client through partnership with knowledgeable auction sales and marketing professional advisors. What results is Tranzon's Market-Making SystemTM that effectively allows clients to sell their assets in the shortest strategic timeline — while reaping the highest possible market price.
Due diligence on the seller's part is as simple as researching any prospective auction marketing partners. As with any service, you want as much assurance as possible that you're selecting a partner who sees their success tied to yours. Firms you're interested in should be reputable, trustworthy and carry successful numerous sales stories aligned with your current property, all to help inform your decision.
2. Initial Consult
Once you have your shortlist of real estate marketing partners, begin setting up initial service consultations.
Consultations are the best way to match research with reality — and one of the quickest assessments to see if how a company presents itself online aligns with how it conducts itself in person. You can learn a lot about operations just from the customer service you receive during a preliminary phone call.
Come prepared for your consultations. Companies are already trying to formulate what services and packages will best meet your needs, which means they'll need honest property assessments and background information. Free property evaluation tools completed beforehand are usually the best way to conduct these.
Be on the lookout for the following when meeting with prospective auction partners.
Problem-solving: It's critical for a piece of real estate to have tailored selling solutions. Every property and sales circumstance is different, as are locations, local markets and other valuative measures. Ensure you're getting a sense that an agency is first and foremost a problem solver, adopting a strategy that works for you.
A seller-first mentality: Does the agency dig past the surface to evaluate the property? Are they asking in-depth questions and searching for details to build a property-selling timeline and campaign precisely for your needs? If not, you may need to look elsewhere.
Structured: One of the principal benefits of a real estate auction is its nature of selling property on a schedule. That approach won't work with a disorganized or hard-to-reach marketing partner. Selling your property fast means keeping deadlines straight and checklists accounted for until the day of the sale.
3. Determine Sales Strategy and Selling Timeline
Work with representatives to set an auction date. At this point, you'll also determine what kind of auction would be the most effective for your particular piece of real estate or asset portfolio -- online, in person, or a combination of the two -- as well as other elements of how to strategically structure the sale.
However, your real estate auction is structured, a key component is to prioritize your timeline, your agency and your control throughout the process. Online auctions have a bonus of attracting a larger buyer pool, unrestricted by geography or the ability to make the auction date, while in-person sales offer a stimulating event-style sales environment that can be more effective in some situations. No matter how the sale is conducted, everyone competes on an equal playing field.
4. Create a Marketing Campaign
The best real estate marketing campaigns drum up the right potential buyers bidding at the best prices. They're personalized and central to your sale's success, with the agency's representatives working to create a custom marketing campaign relaying accurate property assessments in your area's market and the benefits and attractions of your property, while building a sense of urgency behind the sale and communicating clear calls to action to targeted buyers.
Sales strategies for properties should also come tailored to your exact piece of real estate. They encourage interest and set your asset apart from the rest, which in turn boosts its potential to drive a higher final auction price. What's more, your campaigns have the added value of extensive advertising in various media channels, depending on where your audience interacts — online and in print, in newspapers, relevant publications, on the radio, on billboards and much, much more:
Digital media, such as attention-grabbing videos
Email marketing campaigns and inbound and outbound calls to target network buyers
A property information package, further priming real and informed interest in your real estate

Sell Your Property Fast
There are numerous reasons people need to sell properties efficiently.
Tranzon has worked with banks, homeowners, businesses, corporations, investors, nonprofits and many more sellers to secure real estate interests in a speedy, yet secure, manner. We've seen dozens of reasons for timely auctions, and our job is to listen to our clients' needs and to advise on effective schedules and match targeted, bid-ready buyers to the sale in a way that maximizes those needs.
Some of the most common reasons parties look to sell their real estate on a schedule include the following.
Property value appreciations: Opportunity doesn't wait in line, and it doesn't run on a nine-to-five schedule. Individuals have approached us countless times with real estate property appreciations they want to capitalize on before it's too late. These opportunities themselves may have arisen quickly, based on everything from the supply and demand of real estate in a particular neighborhood to fiscal inflation and other market drivers that put the meaning in prime real estate. These savvy sellers understand that an auction is one of the best ways to maximize value in a strong market.
Lifestyle changes: Upsizing, downsizing, divorce, inheritance — expected and surprising life events alike are a driving reason behind someone's need to sell property quickly. Sometimes, a life change affects what kinds of residential property are attractive and feasible for a client, while other times, an event can make an individual reevaluate their investment or commercial real estate interests. Either way, Tranzon can help.
Foreclosure or Bankruptcy: Selling a foreclosed property or real estate asset involved in a bankruptcy can be difficult. There is history with the property that makes the foundation of the sale uneasy. Our professionals are able to put the situation into context, working with the lender or trustee to sell the foreclosed property or bankruptcy asset effectively.
Consolidating real estate portfolios: Real estate investors balance their assets and must maintain active portfolio decisions like any other investment vehicle.
Upcoming relocation: nearly 20 percent of residential properties sold annually hit the market because the owner is moving for a job. those relocation timelines can be pinched, too, with thrilling but sudden offers requiring a move in as little as a month.
Truly unique properties: Some buildings, homes or developmental land plots are so one-of-a-kind, they defy classification and are notoriously difficult to appraise. When this is the case, traditional commercial listings may not be able to do a property justice — or target its specialized pool of potential buyers. That leads to long, frustrating listing periods, dozens of empty showings, and escalating carrying costs for the owner as they cross their fingers for the right buyer to stumble upon them. Alternatively, Tranzon's Market-Making System is designed to highlight uniqueness in a truly market-driven "micro-climate": an environment populated by serious competitive bidders who are interested in the exact type of property being sold.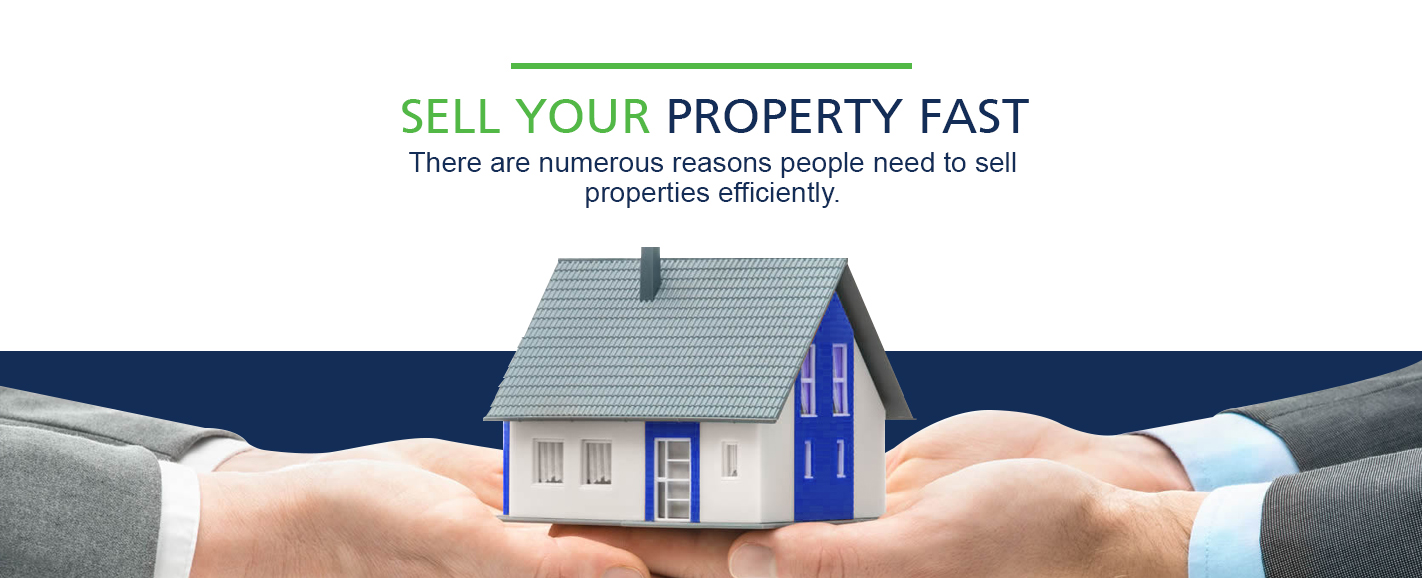 Property Selling Timeline
With the right sales expert partnership, selling your property through an auction provides an ideal, efficient, and often economical real estate solution. There are few matches for the property selling timeline, support, and customization auctions can provide.
By working with a real estate marketing organization like Tranzon, you can expect the following process to make up your sale's timeline — and garner the best possible market values for your situation.
1. Pick a Partner
Selecting a property marketing agency is much like choosing a business partner. You want someone who's easy to work with, invested in your interests, and immersed in skills and talents complementary to your own.
In a partnership like this, it's good to go in knowing what your goals are, but it's also a good idea to be open to professional advice in terms of how to structure your sale -- in-person or online, reserve pricing, and other strategic decisions -- as well as how to set your expectations in the market. So of course, trust is key to the relationship, because your partner will walk you through each subsequent step in the process.
2. Get a Property Assessment
Your real estate marketing partner will commission a property inspection to formally assess its overall sales potential for the impending auction. They'll also thoroughly research local markets, including comparable listings, to set an informed price goal. This research is pivotal in the steps to come, and marketers have a keen sense of how to tailor it to your asset's advantage.
3. Determine the Baseline Minimum Reserve Price
The price goals and information surveyed from your property assessment directly funnel into your minimum reserve price, which is the lowest value you feel comfortable accepting for your building or property, as informed by market and property research and upon consultation with your partner about fair-market value.
Bear in mind that on your auction date, bidding will not typically start at the minimum reserve price. Auctioneers will often start the bidding lower to encourage competition, thus driving the final value at or above traditional market listings in hopes of superseding that minimum.
4. Set the Date
Determine the date of your auction with your selected marketing and sales experts.
This date, like the minimum reserve price, will take into account several researched variables: the condition of your real estate asset, related or outstanding financing arrangements, estate advertising needs and the campaign timeline, as well as the general supply and demand of your area's property markets. Sales experts will account for each of these details to determine an auction date that's fast enough for your needs but also capitalizes on this broader market environment.
5. Create the Property Information Package
The property information package is a crucial piece of the overall auction marketing process. When sent to proprietary lists of target buyers, as well as made available online and through advertising strategies, it provides critical buyer information on the nature and details of your real estate.
Property information packages should include more than just the blueprint of the property, though. Their goal is to thoroughly inform as well as to entice, positioning the real estate asset to be as attractive and desirable to target prospects as possible while also giving them a well-rounded understanding of its features and disclosures. It also keeps the entire selling timeline transparent, with interested parties fully aware of the details of the terms of sale as well as the buyer's responsibilities before they arrive on the day of the auction.
6. Advertise, Advertise, Advertise
Finalize the real estate's marketing plan, alongside any cost estimates for its creation and services. Review the campaign with all parties, as well as its targeting channels: print, online, radio, television, newspapers, email and direct mail. Your real estate partner is vital in this step, as they will be implementing the campaign and contacting their own network of known buyers and investors as well as reaching out to new prospects.
7. Prepare Purchase Agreements
Purchase agreements are the core documents establishing the sale between property sellers and buyers. When assets get sold via auction, these documents will include additional items to review to ensure clear responsibilities and legal transparency.
8. Conduct the Auction
The day of the auction should be an exhilarating one — and as effortless as possible on your part, without the hassle of negotiations, ongoing fees and lingering market uncertainties. While you may be worried about how long it takes to sell real estate, on average, selling a house or commercial property via auction is a much shorter process than going through a traditional agent. From finding a real estate marketing partner to performing an accurate property assessment to conducting the sale, selling your property on a schedule averages only 30 to 45 days.
9. Closing An Auction Sale
Closing an auction sale takes place within 30-45 days but can sometimes occur at a much faster rate, because we have prequalified buyers that understand the sale of the real estate is "as is." This understanding in Tranzon auctions allows for a more efficient and effective sale of property. It is understood that there aren't pre-closing lists or inspections, and the property that was bid on is the property they receive. Our team will also work hard to see that your auction sale processes smoothly.
This means the time it will take to sell your property on a timeline is between 8-10 weeks after you contact Tranzon and sign an auction contract. In most cases, two months or less after the auction is held, the property will be fully transferred out of your assets.
10. Receive the Post-Auction Report and Any After-Sale Follow-Up
Your auction partners will keep you informed throughout the entire process, but they will also prepare a final report documenting the entire sales timeline, itemized fees, charged accounts, commissions, and any other related financial information, as well as a recap of the process and results of your campaign.
With these documents in hand, you have successfully sold your property on a schedule.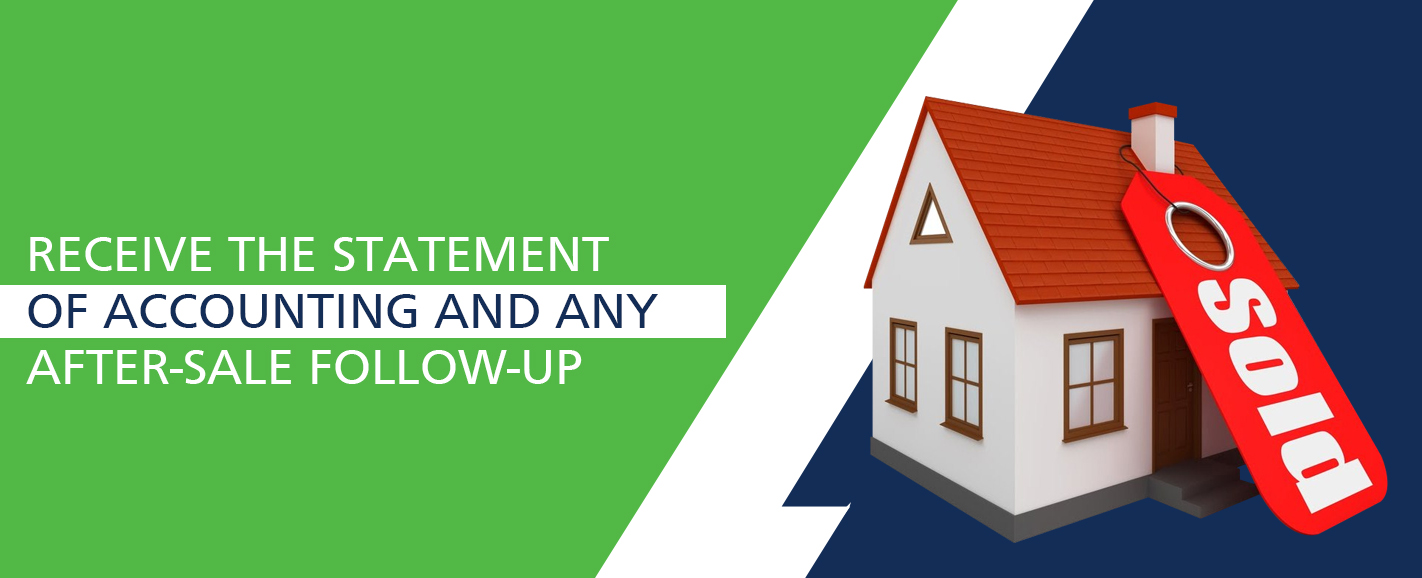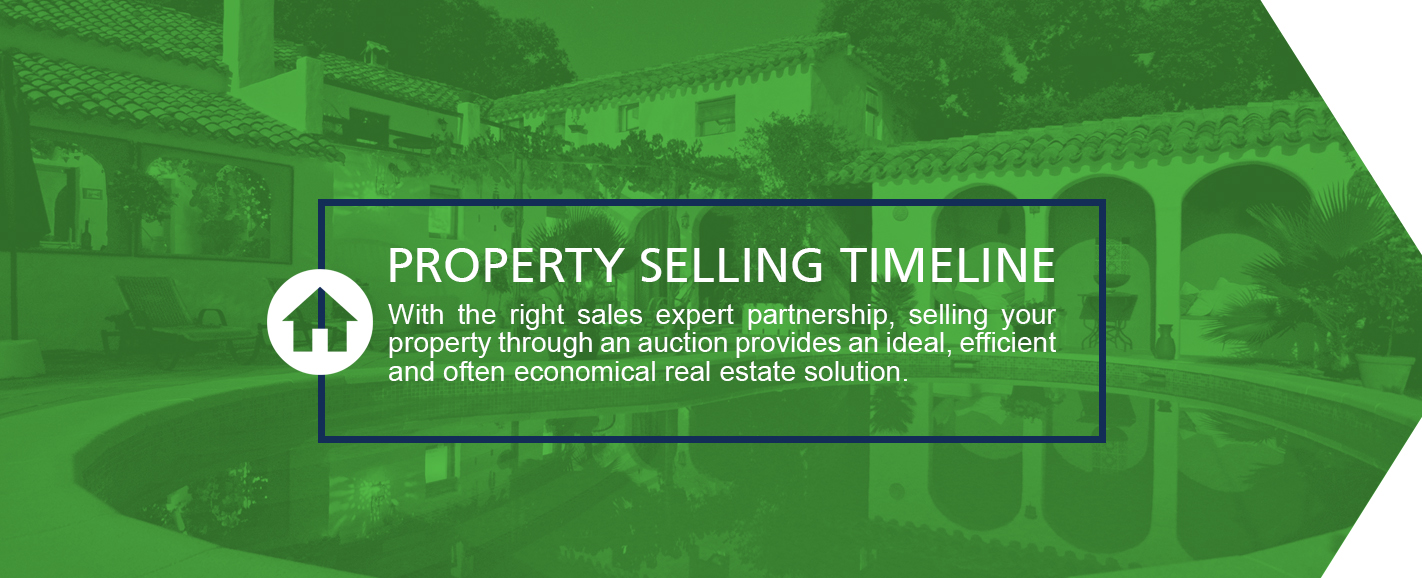 Sell Your Property With Tranzon
At Tranzon, we understand every property is different — as are the people looking to sell them.
It's why we've specialized in premium, personalized property marketing and real estate solutions for the last 20 years. Our network of experienced, professional real estate marketers holds hyper-local expertise in a national network. We can help you break the list-and-wait real estate mold and harness the market value your property — and you— deserve.
Register for a free property evaluation or reach out to one of our real estate representatives today.