Tips for Flipping a Housee
Unlike how it sometimes seems in reality TV shows, flipping a house does not take an hour and a coat of paint. In the real world, it is more complicated and a serious investment of time. Take a look at these tips to help you in your house flipping endeavor.
1. Have Professionals Work in Areas You Aren't An Expert In
The reality TV shows may have you thinking you can do everything yourself, but it's beneficial to seek the help of a qualified contractor or real estate business— especially if you're just getting started in this business. A real estate business's extensive negotiating experience and knowledge of the local market can help you snag a better deal than you may get on your own.
2. Find a Great Neighborhood
While your real estate agent can help with this, it pays to do some of your own research, too. Consider the target market that you'll aim to sell your house to. Knowing the location of schools, businesses, and transportation routes can help you market your home to the right audience. It is also helpful to know factors like crime rates, economic development, and walkability scores.
Also, don't pick a home in an area with lots of homes for sale — it could indicate a stagnant market, which makes it harder to sell your house. Look for a thriving neighborhood for the best resale profit. If you are planning on doing much of the work yourself, try not to stray too far away from your own home neighborhood. You'll make your commute easier on yourself while you improve the property.
3. Research Common Repair Costs
Study some basic costs like contractors' rates and costs of materials like carpet or lumber. Of course, every house and every project will be different, but this will give you a background knowledge to help you budget for your house flipping project. Also, understanding which types of upgrades increase a home's value the most can help you decide which projects are most worth your investment.
4. Know Your Financing Options
Research all of the available options and know the pros and cons of each. Will you be paying cash for the home, or will you be using bank financing? Mortgage plans for second homes or investment properties usually have different terms than first homes, so know what you are getting into. Plan ahead with your budget for mortgage payments, utility costs, and all planned repairs and upgrades during your flip.
5. Find a House With Good Bones
The best candidates for flipping are structurally sound and just need a few updates. Homes that have bigger issues — like mold, structural or roof problems, or major electrical or plumbing issues — will cost you more money and time. They'll quickly eat away at your profits, too.
6. Don't Skip a Professional Inspection
This is one expense not to skimp on. Before you buy a home, be sure to have a professional inspect everything in the home. The inspection can uncover hidden structural issues that may not be visible — and would be a costly fix later.
7. Get Any Necessary Permits
Obtaining the proper permits right away can protect you from fines, lawsuits and other complications or delays later.
8. Hire a Contractor
You may be able to handle cosmetic updates like flooring, painting walls, and staging with furniture. However, be sure to call in the professionals for any changes needed on things like plumbing, electrical systems, or structural issues. It is well worth the extra cost to have important fixes done professionally.
9. Improve Curb Appeal
While you're busy on the inside of your property, it can be easy to forget about the outside — and this can be a big mistake. Keep trees and bushes well-trimmed, clean up the yard, and be sure to keep the grass mowed. There's no need to go overboard on gardens and landscaping, but do keep everything looking neat. A couple of potted plants by the front door can go a long way toward instant curb appeal, too.
10. Stick to Essential Repairs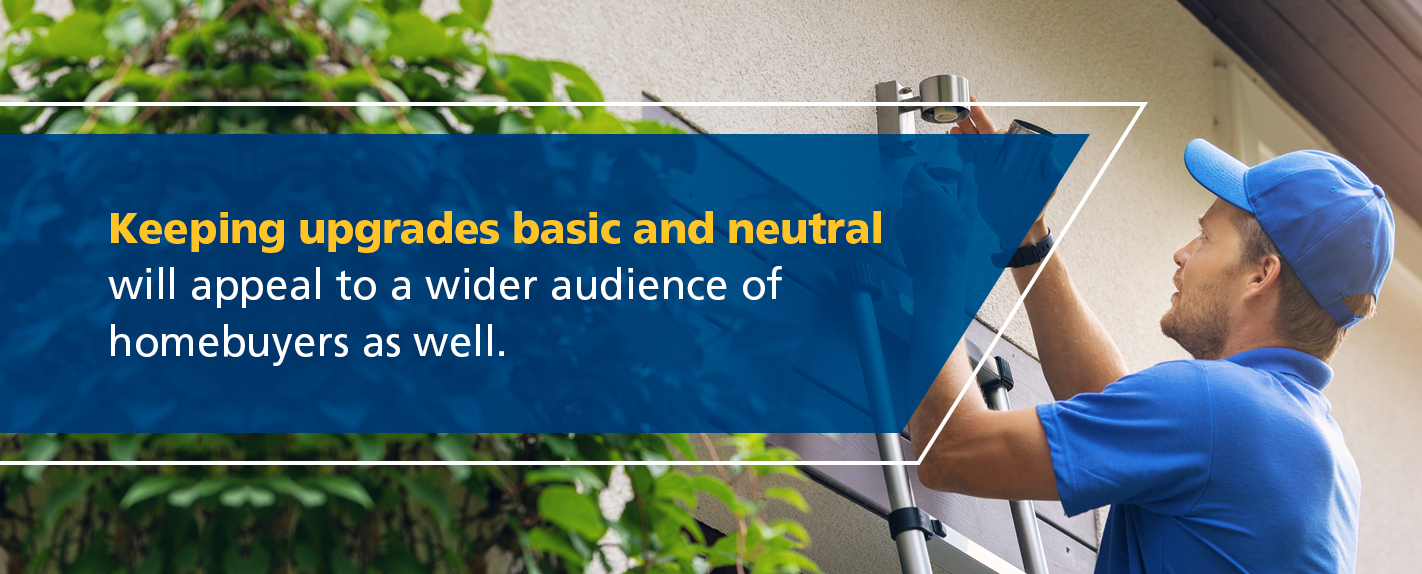 It may be tempting to improve everything in the home or get caught up in fancier, luxurious design choices — but too many unnecessary upgrades could stretch your budget too far and reduce your overall profits. Keeping upgrades basic and neutral will appeal to a wider audience of homebuyers as well.
11. Have a Backup Plan for Income
If the house doesn't sell as quickly as you like or the housing market suddenly takes a turn, you could be stuck making an extra house payment. Plan ahead for these situations and have a contingency plan in mind, such as using the home as a rental for a while. You'll be very busy, but keep your regular job while you fix up your flipper house. Jumping in without any backup income source is never a good idea.
Selling Flipped Real Estate
You've done all your research, picked the perfect house to flip, budgeted, financed, and completed all the necessary repairs and upgrades. Your rehabbed home has been given a makeover inside and out, and now it's time to start thinking about selling. To maximize profit and investment, house flippers know the house needs to sell quickly, and for the highest price possible.
When your home is ready for the market, there are several options for selling real estate. You can choose to sell the property yourself, work with a trusted real estate agent, or use a professional auction service. Each option has its pros and cons, and ultimately it's up to you which method will work best for your situation.
Regardless of which selling method you choose, you will need a marketing strategy in place to advertise your flipped home as for sale.
Marketing Your Flipped Home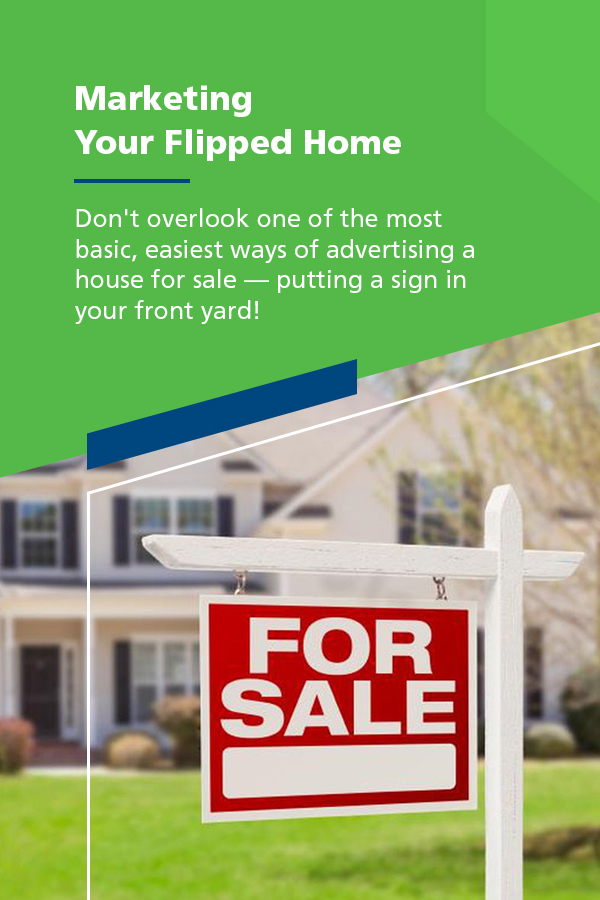 To properly advertise your flipped house, first consider where people in your area are looking for homes for sale. Today, newspapers and magazines are no longer considered effective in most markets for selling real estate. The most popular method to advertise and sell a property is online, with sites like Zillow and Trulia. Listings on these types of sites are often from an MLS, or multiple listings service. It allows listing real estate brokers to work in cooperation with buyers' real estate brokers to get homes sold.
You can send out a direct mail or email campaign advertising your property to your intended audience as well, and don't overlook one of the most basic, easiest ways of advertising a house for sale — putting a sign in your front yard! Sometimes the simplest method is the best, and a for sale sign serves to let anyone walking or driving through the neighborhood know that the property is for sale. Make sure your home's curb appeal is updated, and the exterior is looking its best, and the home may just sell itself.
In your listings, make sure you represent your home in the best possible light, too. Start by staging the home with a few key furnishings and decorations. You want your potential buyers to see the home not as a set of empty rooms, but as a place they see themselves living in. Put beds, living room furniture and a dining set in the home. Highlight extra rooms and unique spaces, such as offices and exercise rooms. Place some outdoor furniture on the deck or in the backyard and put a few potted plants around. You can also hire a professional stager if you don't feel confident in your interior design skills.
Once your home has been properly staged, take lots of pictures for your online listings. Take photos from several angles in each room, making sure the room is styled and the lighting is good. If you are writing the descriptions for your ad copy, use some creativity. Describe the home's unique features using enticing language instead of just "House for sale on Main Street." Describe the architectural styles, the layout of the rooms, the surrounding neighborhood — and don't forget to mention the recent upgrades!
Using a Realtor
You may be tempted to try to sell your flipped real estate yourself, but only do this if you know how much your property is worth and are sure of the housing markets and your negotiating skills. There's a lot of work involved in selling a house — more than most people realize. For this reason, it's usually a better choice to hire a professional real estate agent to help you sell flipped real estate. Although the agent will charge a commission, it's worth the fees to save yourself the headaches of having to deal with all the marketing, paperwork, listing, and negotiating by yourself.
Your agent will likely plan an open house for your property, and you can help with the event. Make sure the house is cleaned and the lawn is maintained for the open house. This is your chance to really show off your home to potential buyers, so keep your staging looking warm and inviting. Bring in some fresh flowers and light a candle to ensure the home smells good, too. Once everything is set up for the open house, communicate to your agent what features you want to be highlighted, and then leave the house and let the realtor handle everything.
Real Estate Auctions
Another option for selling real estate is through an auction. Auctioning your property can be a much faster process since you don't need to wait for offers on the property to come in. With an auction, the property is presented to a group of buyers all at the same time. Buyers bid on the property, and the winner is the person or group who places the highest bid at the close of the auction.
If you think an auction might be a good fit for your flipped home, the first step is to contact an auction company like Tranzon for more information on getting started. During the setup process with the auction agent, you will find out if an auction is right for your real estate. You may choose to set a reserve, meaning the home has to meet a certain minimum price or otherwise be approved by you in order to be sold. You will also be able to choose between an on-site (live) auction, an online auction, or both. Your auction professional can advise you about which marketing strategies would work best for your situation and goals.
After your initial consultation, the auction company will gather all the necessary information and then start marketing your home. The property will usually be advertised for about one month before the actual auction. When the day of the auction comes, the buyer often signs the purchase agreement that same day, with a closing date of about one month after the auction. This accelerated timeline is often appealing to house flippers because it can sell a flipped property much faster, meaning that your overhead is lower and your capital is free to be reinvested more quickly.
With an auction, you have control over the timeline of the sale. As opposed to a traditional sale where you wait for a buyer, selling your property through an auction brings buyers to you. There is always the possibility that the home might not sell, or sell for less than you'd hoped for. But if you've done your homework and chosen a good property in a healthy housing market, the auction process harnesses those market conditions with aggressive marketing and a shortened timeframe that generates a sense of urgency.
One of the biggest positives of using an auction is that you don't have to worry about post-sale contingencies. Before and during the auction, extensive information about the home is available to buyers, and the home is sold as-is. There is no need to worry about a drawn-out financing process, property evaluations, or punch lists that delay closing.
Things to Avoid When Flipping a House
Many people jump into house flipping with little knowledge or experience. The reality TV shows make house flipping look appealing and easy, but it's often far from it, and there are some pitfalls to avoid:
Money: Finances top the list of common mistakes in house flipping. Often, people underestimate the costs of the renovations or neglect to factor in the interest on the financing during the flipping process. Unexpected costs can also add up and eat into the profits.
Time: Time is another factor commonly underestimated in flipping projects. Renovating a house takes a lot of work, whether you do the work yourself or are supervising contractors or other hired help. And the longer the repair projects take, the longer you are making mortgage payments on the house.
Experience: If you don't have any skills or experience repairing and renovating a home, you'll have to hire out for everything, which can be more costly in both money and time. At least a minimal knowledge of home buying and selling, housing markets, and some basic repair skills are necessary in the house flipping business.
Sell Your Flipped Property With a Tranzon Auction
If you have a flipped house you're ready to sell and you're interested in learning more about real estate auctions, Tranzon is ready to take your call. Across the country and for more than 20 years, our team has the experience and knowledge to help you get the best price for your home. Contact us today to find out more about the auctioning process and get started on selling your property.